| | |
| --- | --- |
| Genre | Painting |
| Materials | Oil on canvas |
| Size | 142,7 x 211,5 cm |
| Signature | signed and dated bottom left: C. Saltzmann 1908 |
Restored with the support of the Ernst von Siemens Kunststiftung
Research status
Provenance is unclear and research continues.
Blue on Blue
A "Summer Day at Sea" bursting with blue – except for the odd cloud. Saltzmann, best known for his marine themes, took part in 22 of the 26 Nordic voyages by Kaiser Wilhelm II, and these inspired his work. The big canvas shown here was painted in Neubabelsberg, where the artist bought a villa with a studio in 1890.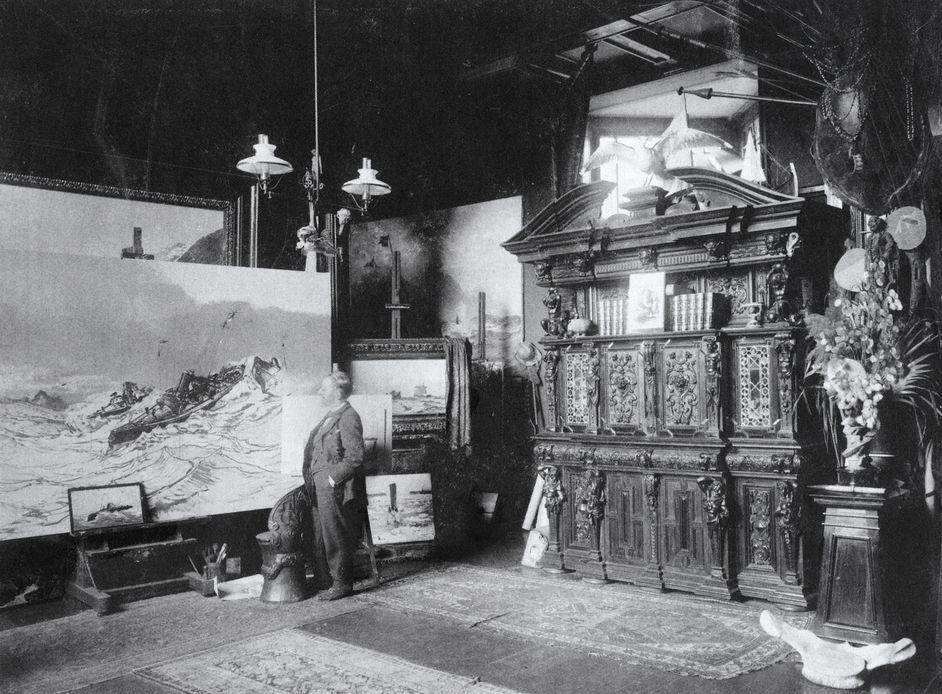 Was it shown or wasn't it?
Jörg Thiede seems to have been fascinated by this theme. It was one of the first paintings he bought for his collection in the 1990s. In 2014 he donated it to the Berlinische Galerie with another 72 works created around 1900.
The stretcher frame on the back offers further pointers to the work's biography that could reveal more about the provenance. One very promising mark is a damaged label from the Great Berlin Art Exhibition.
The torn number might be read as 4392. It is true that the Great Berlin Art Exhibition always showed a great many works, but rarely more than 2000. Studying the exhibition catalogues turned up nothing about either the title or the number. There are a few photographs of works on display but no descriptions, dates or sizes. That makes it hard to identify specific works definitively. Besides, the historical titles are not necessarily the same as the ones used today. Might the number 4392 refer to the receipt of a submission? Perhaps the artist wanted to show "Summer Day at Sea" at the Great Berlin Art Exhibition but the jury rejected it. Or perhaps it was quite the opposite: perhaps it did very well and the number refers to a sale. The Great Berlin Art Exhibition was also a marketing event.
We have not yet established who owned Saltzmann's painting "Summer Day at Sea" in all the years before 1990. The other marks on the back of the work clarify nothing. A search for the artist's descendants has so far not yielded any results.