| | |
| --- | --- |
| Genre | Painting |
| Materials | Oil on canvas |
| Size | 100 x 150 cm |
| Signature | signed and dated bottom right: Müller-Kurzwelly 1913 |
Research status
Provenance is unclear and research continues.
One motif, two unmapped pathways
"Evening Mood by the Baltic Sea" and "Old Farmhouse on a Rügen Beach" alongside are almost identical. They depict the same bay with a calm sea at the close of day. "Evening Mood by the Baltic Sea" is dated 1913, the other version was probably painted at the same time. Konrad Alexander Müller-Kurzwelly died in Lichterfelde in the south of Berlin in July 1914. We do not know whether he completed these works in his villa at home or on the island of Rügen, where this bay presumably lies.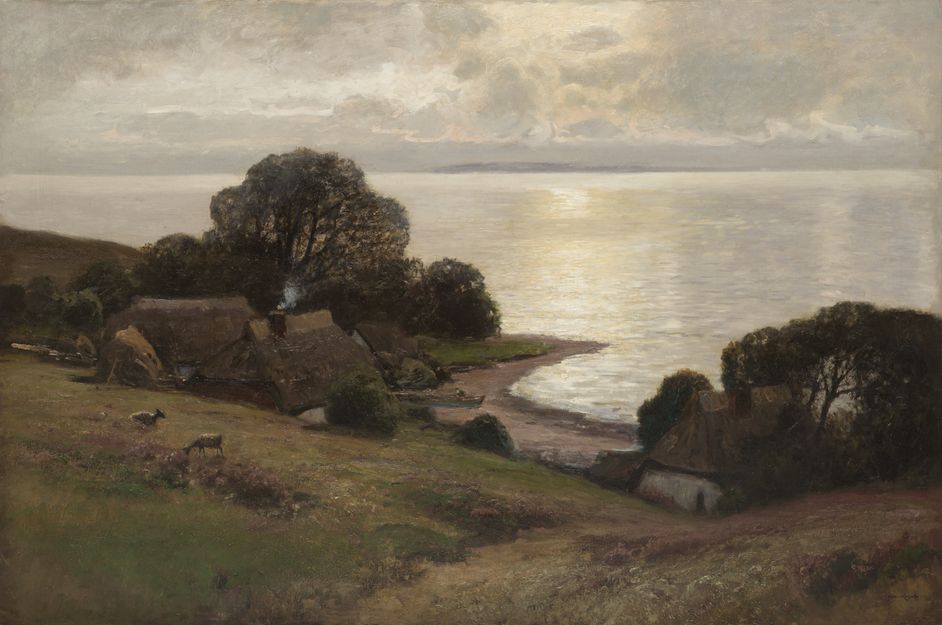 The artist probably kept both these paintings until he died. After that they went their separate ways. "Evening Mood by the Baltic Sea" can be traced to Quentin's auction house in Charlottenburg on 19 October 2013. The hammer price was 2,600 euros.
The previous year, "Old Farmhouse on a Rügen Beach" had turned up at the auctioneers Scheublein Art & Auktionen in Munich. On 23 March 2012 it was sold to a new owner for 3,000 euros under the title "Old Farmhouse on the Wadden Sea".
A few months later, this version of the motif had travelled to Cologne, where the auction house Lempertz sold it in October 2013 for 6,400 euros.
Lempertz wrote in the auction catalogue for this painting: "Our high-quality, large-format work is known in different variations."
We need to establish how many versions of this evening idyll by Müller-Kurzwelly were shown in galleries or sold straight from his studio. Once we know that, we can target the pathways of each work more accurately.
The Berlin collector Jörg Thiede re-united the two versions of the motif on display here 100 years after they were painted. In 2014 he donated the paintings and over 60 other works to the Berlinische Galerie.