| | |
| --- | --- |
| Genre | Painting |
| Materials | Oil on canvas |
| Size | 40 x 65 cm |
| Signature | unsigned |
Restored with the support of the Ernst von Siemens Kunststiftung
Research status
Provenance is unclear and research continues.
A fascination with Capri

"But when I felt that the water was cool, I looked up at the ceiling of the vault, believing that the blue glow must come from there. Yet the ceiling was closed up, and at last, being turned away from the fire, I could half discern something of its shape. The water still felt marvellous and made me giddy, for whenever the waves calmed a little, I had the sense that I was swimming in the immeasurably blue sky."

August Kopisch: Entdeckung der blauen Grotte auf der Insel Capri, 1838
In the summer of 1826, the German writer August Kopisch (1799–1853) discovered a legendary grotto on the Italian island of Capri. The Romantic poet immortalised his impressions in 1838 in the tale "Discovery of the Blue Grotto on the Island of Capri".
This account by Kopisch unleashed an enthusiasm for the grotto that has never subsided. Artists tackled the motif frequently – among them Carl Friedrich Seiffert. So far five versions have been identified, painted between the late 1840s and his death. The "Blue Grotto" now in the Berlinische Galerie is unsigned. Informed guesswork dates it to 1861.

In 2017 another version, likewise undated and unsigned, went to auction at the Villa Grisebach. The auction house wrote that it had been painted in the years following Seiffert's trip to Italy in 1847.
A larger, signed version from 1860 is now at the Nationalgalerie, one of the Berlin State Museums. It came to the collection in 1877 from the estate of Princess Marie of Prussia.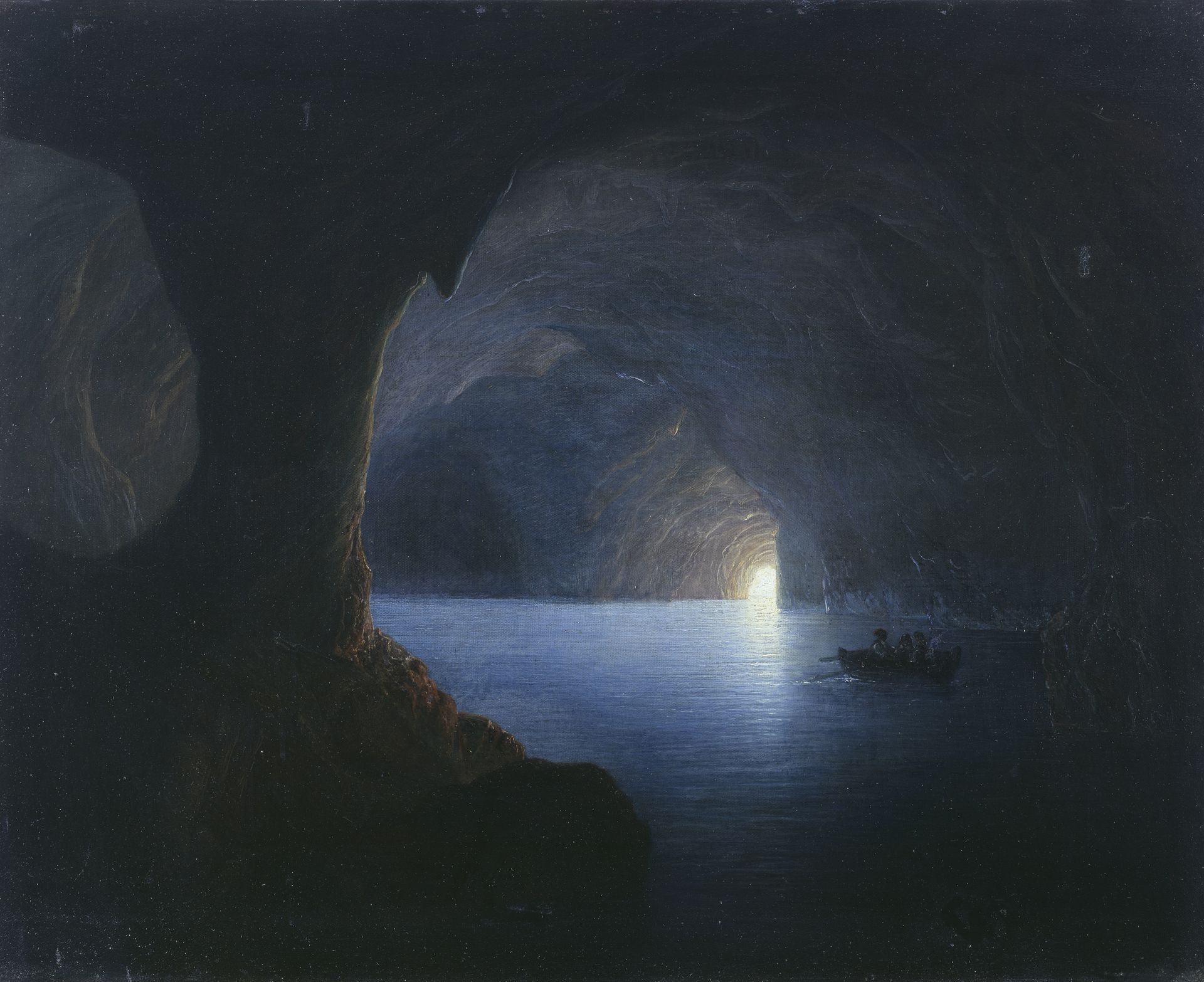 In 1928 Leo Grünpeter in Berlin auctioned a signed version dated 1884. Its whereabouts are unknown. There is another work, regarded as a study, in the collection of prints and drawings kept by the Stiftung Preussische Schlösser und Gärten Berlin-Brandenburg. The sheer diversity of these variations makes it hard for provenance researchers to identify a particular work and trace its path. Moreover, it is questionable whether all the unsigned versions really were painted by Seiffert himself.
Waldemar Grzimek's collection of studies
This version of the "Blue Grotto" attributed to Carl Seiffert came from a collection belonging to Waldemar Grzimek (1918–84). After his death, 76 paintings were passed on to the Berlinische Galerie. Grzimek was a Berlin-based sculptor. He amassed a great many works illustrating the evolution of sculpture and painting, which he used for study purposes. He focused on art from Berlin, ranging from sculptures via iron castings and porcelain to paintings, mostly from the 19th century.
But how did "The Blue Grotto on Capri" end up in Waldemar Grzimek's study collection? Did he buy the painting himself, or had it perhaps already belonged to his parents, who had been collecting art since the 1920s? So far we have not found an answer.