| | |
| --- | --- |
| Genre | Painting |
| Materials | Oil on canvas |
| Size | 90 x 182 cm |
| Signature | bottom right: M. Fleischer, 1906 |
Research status
Provenance is established. The work does not qualify as a cultural asset extorted due to Nazi persecution.
A Christian motif?
Max Fleischer was not only a painter but also an enthusiastic botanist. In 1923 he was awarded an honorary doctorate by the University of Utrecht for his work on the flora of the Dutch East Indies. Since 1914 he had worked for Berlin's Botanical Museum in Dahlem.
Max Fleischer died on the Côte d'Azur in 1930. His widow kept his artistic estate for almost half a century. In 1978 she decided to give works and documents to Berlin – and the Botanical Museum seemed to be the best place. In June, the consignment reached Dahlem. Seven paintings that looked interesting from an art history angle were given to the Berlinische Galerie. One of them was "First Communion", also displayed here. All the other works stayed at the Botanical Museum for the time being.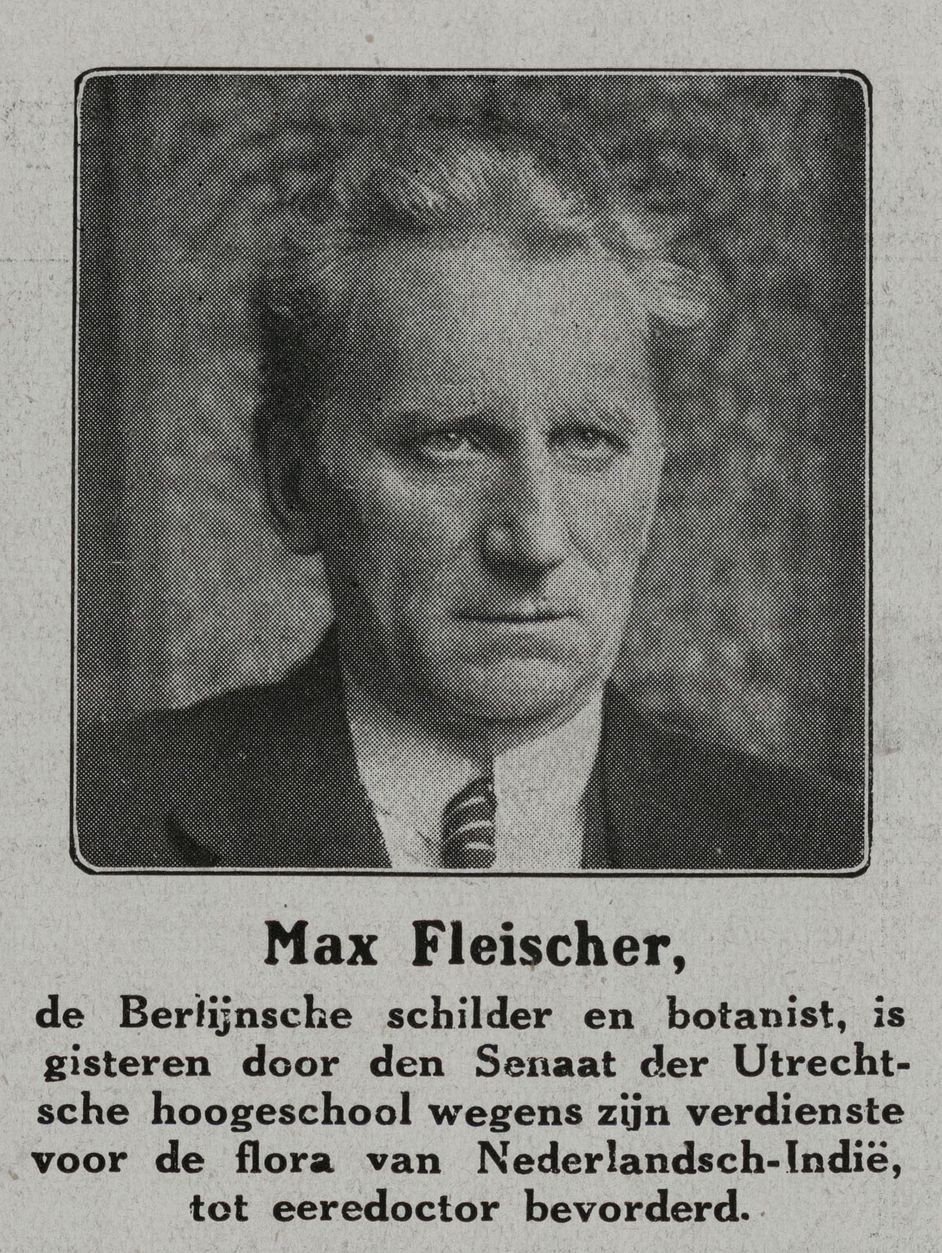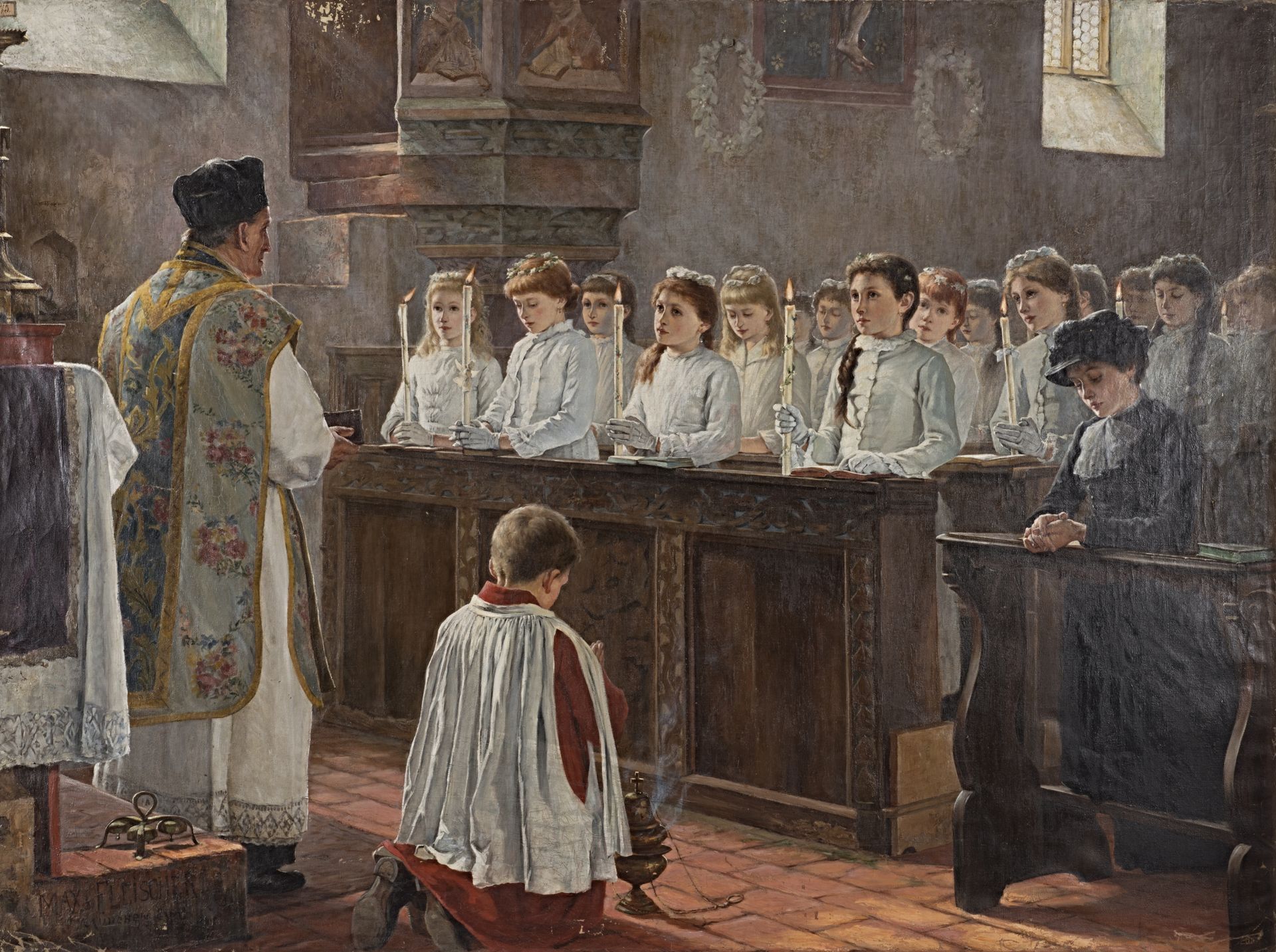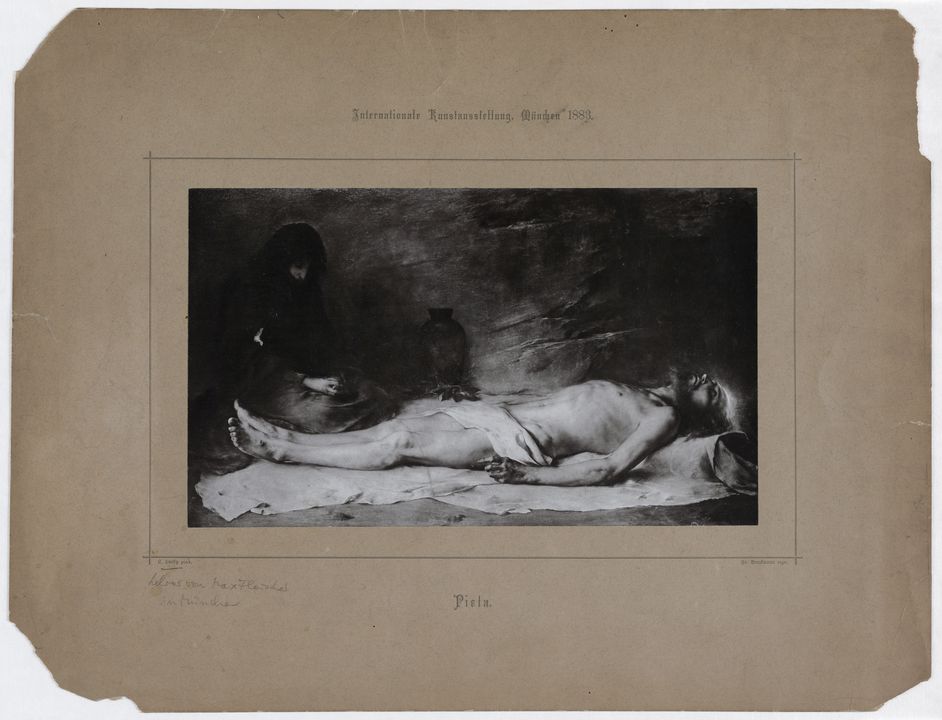 The Botanical Museum archive kept a file about the receipt and distribution of the estate. A list of the paintings mentions a "Christ figure reclining, study for 'Pieta'?, 1883, 90-220, oil paint, rolled up". Could this perhaps be the reclining corpse, even though that is dated 1906?
A trace that might lead to an answer is found in Max Fleischer's posthumous documents: a photograph of a painting by his teacher Ludwig von Löfftz (1845–1910) entitled "Pieta".
Von Löfftz approached the Christian motif with more freedom than usual in 1883. Traditionally, ever since the Middle Ages, a Pietà has depicted the Virgin Mary with her son's body lying across her lap. Fleischer clearly took his cue from his teacher's motif, but he went a step further. His work focuses on the body of Jesus Christ after it was taken down from the cross.
It is impossible to say what Max Fleischer called his work in 1906. If he borrowed the title "Pietà" from Ludwig von Löfftz, it might have been exhibited in Batavia, now Jakarta, in 1909. The exhibition catalogue lists a painting with this title as no. 7.
After 1978 this work passed from the Fleischer Estate into the ownership of the State of Berlin. In 2008 the Senate Department of Culture gave it to the Berlinische Galerie.