| | |
| --- | --- |
| Genre | Painting |
| Materials | Oil on canvas, laminated onto canvas |
| Size | 48 x 64 cm |
| Signature | monogrammed top right: LvH |
Restored with the support of the Ernst von Siemens Kunststiftung
Research status
Provenance is unclear and research continues.
The Myster Buyer
Volker Westphal (1938–2017), who sold this painting to the Berlinische Galerie in 2018, had worked as an art dealer in Berlin since 1966. His last business premises were in a spacious apartment at Kaiserdamm 118. We do not know when or from whom he bought "Rider in the Rocky Bay". In 2012, it was listed for sale by the auction house Hugo Ruef in Munich under the title "Naked Boy on Horseback on the Beach of a Rocky Seashore". The valuation price was extremely low and it sold for € 9,000. It was then acquired by the gallery Kunkel Fine Art, also based in Munich.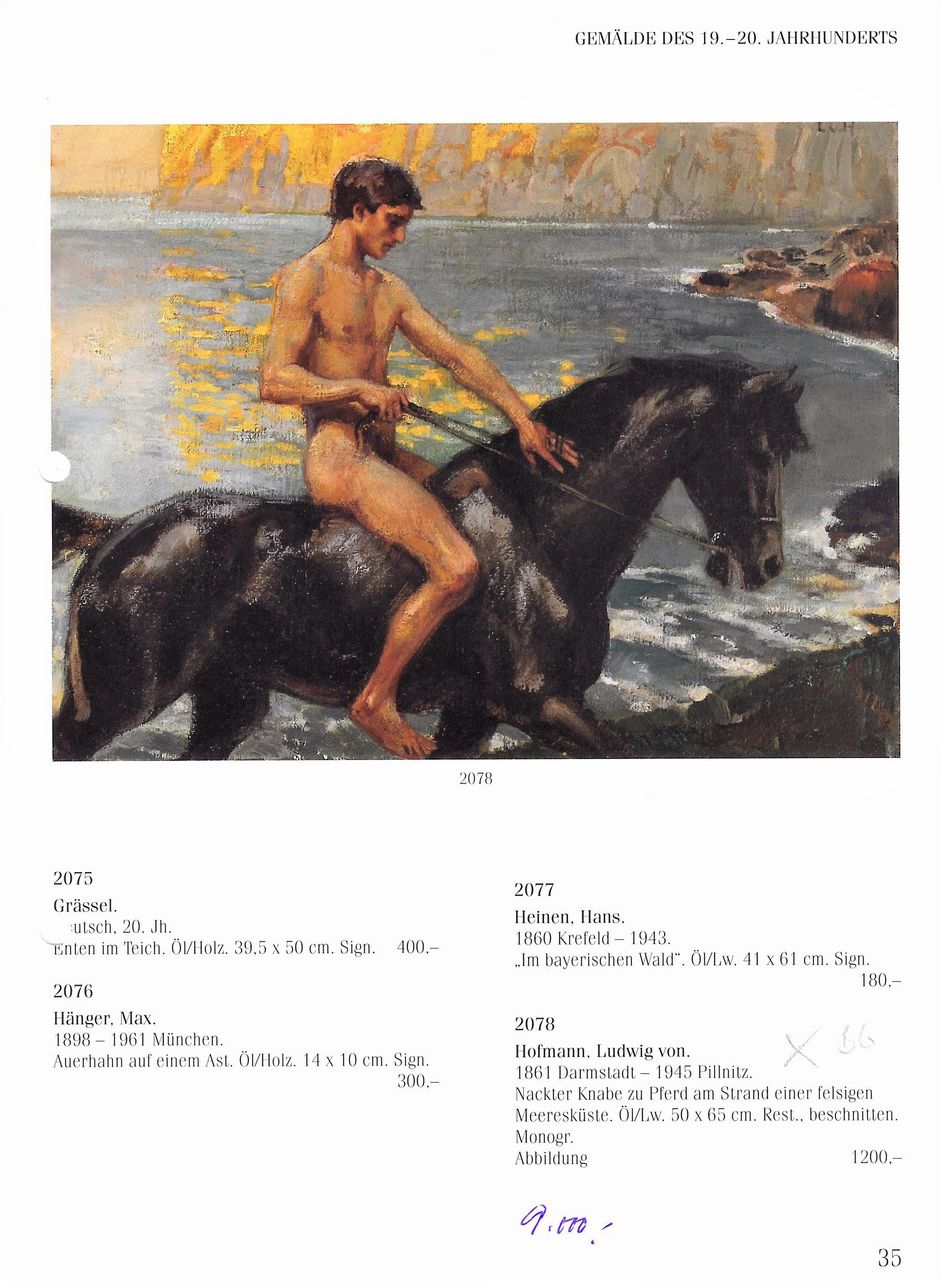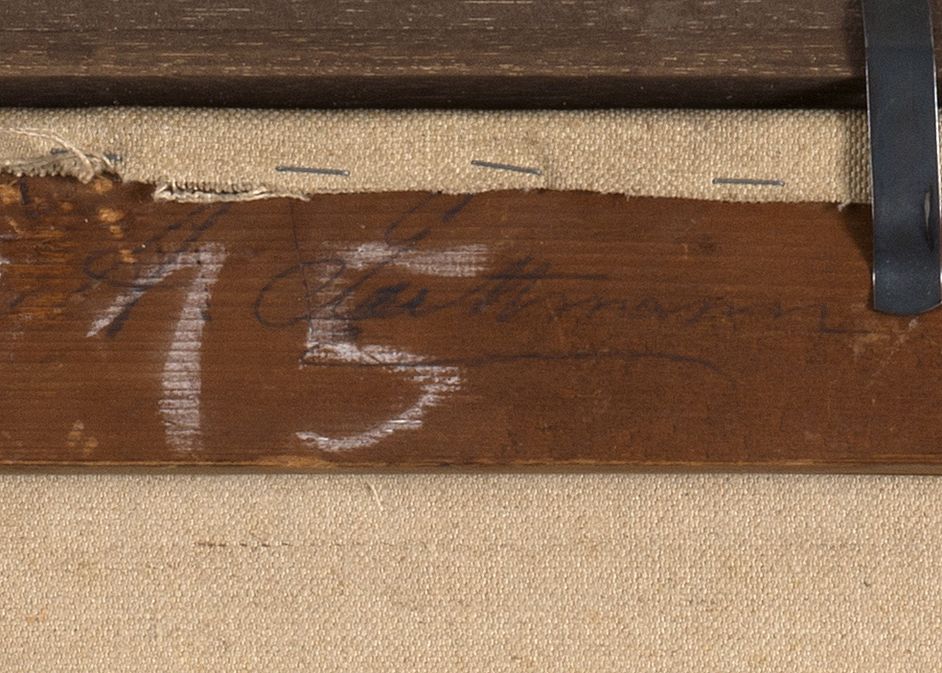 Little is known about the painting's whereabouts before 2012. A crucial lead was provided by the stretcher frame, where the name "Guttmann" was just about legible, and investigations revealed that in 1917 it had been part of a collection owned by the merchant Albrecht Guttmann (1845–1919), whose address was Am kleinen Wannsee 2, a villa in the outskirts of Berlin.
On 18 May 1917, more than 20 items from Albrecht Guttmann's collection were auctioned at the gallery run by Paul Cassirer and Hugo Helbing on Kurfürstendamm. Among these were major works by Claude Monet and Max Liebermann.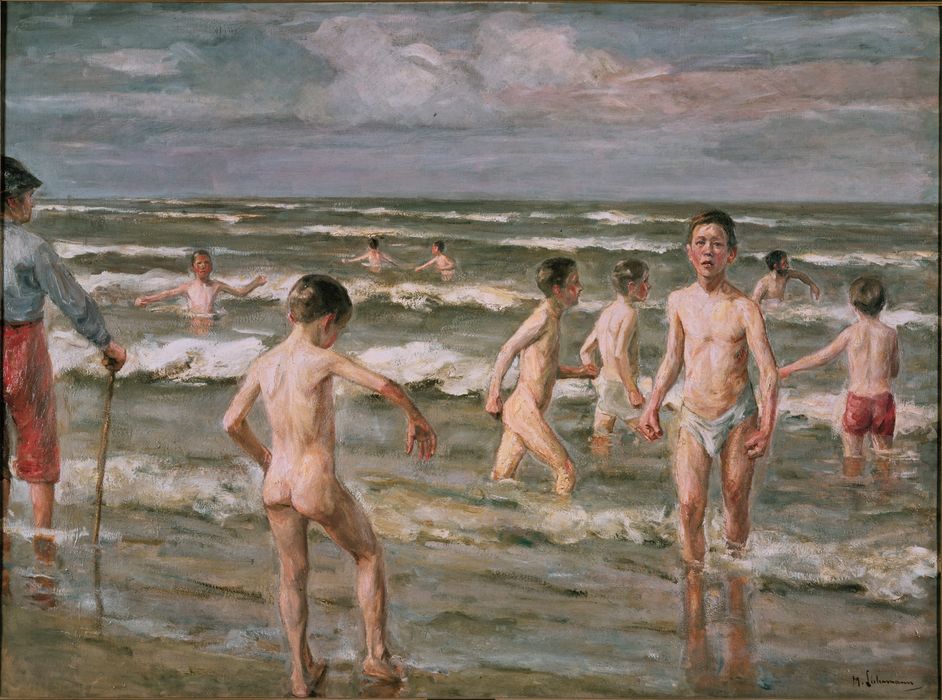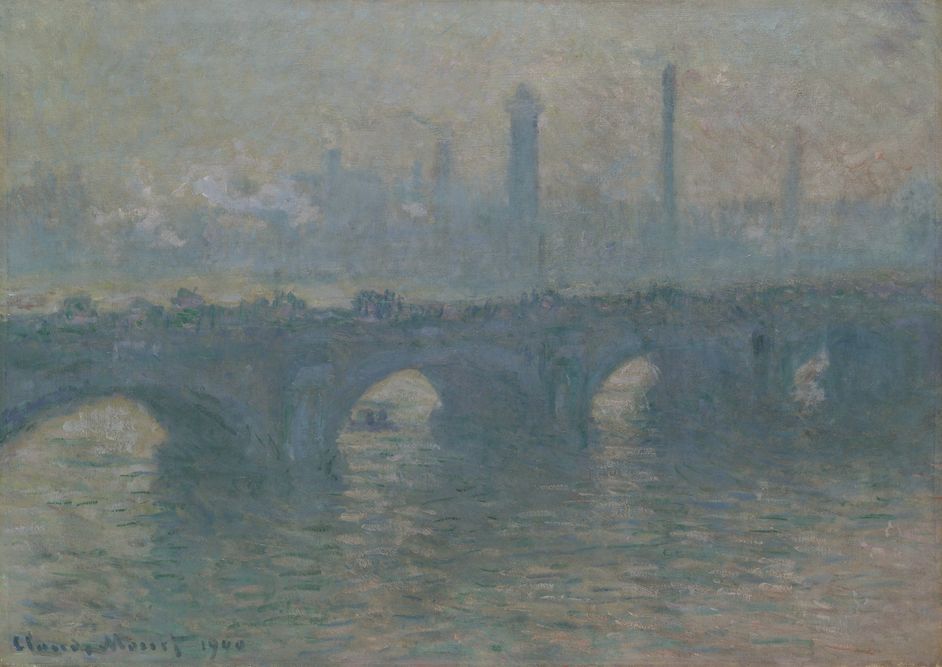 On that occasion, "Rider in the Rocky Bay" was offered for sale as "Naked Rider". Notes in an auction catalogue preserved in Zürich tell us that the painting was purchased for 2,050 marks by one Wilhelm Caspari of Wilmersdorf in Berlin. But who was Wilhelm Caspari?
The Berlin address directory for 1917 lists two people with this name: a lawyer living between Grunewald and Schmargendorf (in what is now Wilmersdorf) and a doctor in Charlottenburg. Both were persecuted after 1933 because of their Jewish origins. The lawyer died in 1936. The doctor, a leading German cancer specialist in his day, met his death in 1944 in the Łódź Ghetto. Had one of these men bought the painting from Cassirer and Helbing? Did he still own the work in the 1930s? Had he been obliged to give it up because of Nazi persecution? And is "Rider in the Rocky Bay" the same painting as one of about the same size, listed as "Rider on the Beach" along with the owner's initials M.S., offered for sale on 2 July 1936 by the auctioneers Mandelbaum and Kronthal on Kurfürstenstrasse in Berlin? Further research is needed to answer these pressing questions.