Matthias Böhler (*1981 Aachen) and Christian Orendt (*1980 Sighișoara, Romania) formed their artistic duo in 2008. They bring wit, irony and black humour to their account of human dealings: how we waste resources that took millions of years to evolve, how we have already destroyed more than 2.5 billion hectares of forest and exterminated over 60 per cent of terrestrial vertebrates.
In this exhibition a huge monkey-like creature serves as a multiple source of "raw materials" for busy squads of workers. At the heart of the second installation a spaceship resembling a lotus bud invites visitors to come inside and explore. A sequence of nine overpainted photocollages made in 2020 promises "The Sweet Certainty of Deliverance from the Darkness that Surrounds Us". Extinct animals perform a ghostly lament, summoning a mysterious power to rid the planet of this threat by wondrous means. The collages belong to the Berlinische Galerie's collection and are being shown in the museum for the first time.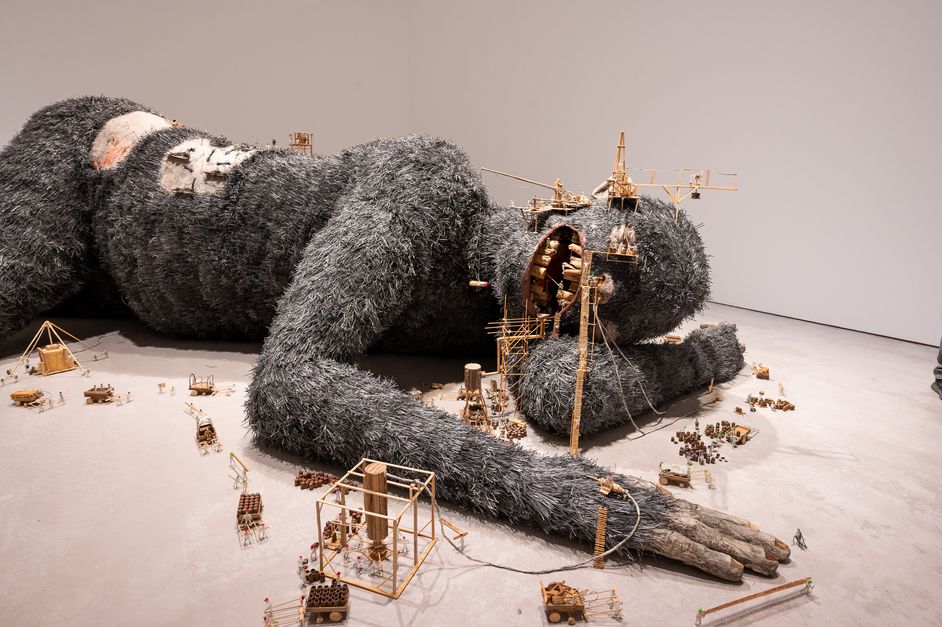 All the explanatory exhibition texts are available in German and English.
The exhibition contains no information in Easy German.
The exhibition contains no information in German Sign Language.
Some outreach events are held in or with German Sign Language.
The exhibition features light projections and sound installations. The sounds in the installations can be heard in all sections of the exhibition.
Assistive listening is not supported by induction systems or neck loops.
Further exhibits and explanatory texts can be seen and read from a seated position.
In one place the floor is uneven due to a cable guard.
The exhibition contains items on the floor without marked boundaries.
There is no seating. Wheelchairs and folding stools can be borrowed free of charge from the cloakroom.
To protect the works in the exhibition limited use is made of bright illumination. Most of the exhibition texts are designed with strong contrast.
Texts included in the exhibition have been summarised in a handout.
All the panel texts are available as a large-print brochure that you will find at the entrance to the exhibition.
The exhibition contains no tactile floor guidance and no touch models.
Do you have any other questions about accessibility? Andreas Krüger, officer accessibility and inclusion, will be happy to answer them via e-mail krueger@berlinischegalerie.de or via phone +49 (0)30-789 02-832.