Bettina Pousttchi works at the interface between sculpture, photography and architecture. Her site-specific photographic interventions adopt an architectural scale, often taking up whole walls of buildings and referencing the urban or historical context of a place. Pousttchi articulates perceptions of reality in the digital age and explores the relationship between memory and history from a transnational perspective.
Her exhibition at the Berlinische Galerie begins with an installation for the façade of the museum, a net-like pattern extending across the entire glass front. Inside she offers an overview of her sculpture and photography, including recent works. The sculptures made of mechanically transformed street furniture such as bicycle racks, tree protection barriers and crash barriers demonstrate her interest in systems for ordering public space.
Bettina Pousttchi was born in Mainz in 1971. She studied at the Art Academy in Düsseldorf and completed the Whitney Independent Study Program in New York. She gained widespread recognition for her photographic installation "Echo" (2009/2010) on the façade of the Temporäre Kunsthalle in Berlin and for "World Time Clock" (2008–2016), a major series of photographs from around the world. In this the artist composes a philosophically thoughtful image of synchronicity and depicts a globalised reality uncoupled from time and space. Bettina Pousttchi lives in Berlin.
The opening took place during the Berlin Art Week (11.9.-15.9.2019) on Wednesday, September 11, 2019.
Photos of the opening
during Berlin Art Week
The exhibition is funded by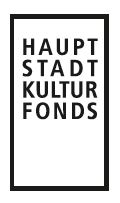 Cooperation and Media Partners