Ruth Hildegard Geyer-Raack (1894–1975) was a renowned interior designer and designer of murals, fabrics, wallpapers, and furniture. She studied painting at the Teaching Institute of Berlin's Kunstgewerbemuseum (Decorative Arts Museum). It was directed by the architect and furniture designer Bruno Paul (1874–1968), with whom Geyer-Raack later collaborated. In 1920 and 1921 she attended the summer semester at the Weimar Bauhaus and traveled several times to Paris for study purposes.
In 1924 Geyer-Raack opened her own studio in Berlin. She specialized in high-quality interior design for chic lifestyles. She produced innovative designs that brought contrasting furnishing styles, such as the Bauhaus and Art Déco, into harmonious unison. As artistic director of the International Interior Design Exhibition in Cologne in 1931, she became known well beyond Berlin.
She presented there a diverse cross section of contemporaneous ideas for housing by the international architectural avant-garde. In the wake of the Great Depression and the World War II, her commissions declined considerably. A few months after Hitler's appointment as the new Reich Chancellor, she joined the NSDAP on 1 May 1933 and was a member of the National Socialist institutions NS-Frauenschaft, NS-Volkswohlfahrt and Reichskulturkammer. On 28 September 1948, Geyer-Raack was denazified. In 1955 she went blind in one eye. However, she continued to work until the end of her life in 1975.
A different Avant-garde?
In the 1920s and 1930s Geyer-Raack distinguished herself from the unadorned architecture of the Bauhaus school with spacious, colorful murals. Flowering plants, delicate butterflies, schematic figures, and remote mountain landscapes lend her interior designs a paradisical atmosphere.
By contrast, the artist usually designed the bedrooms more simply. For example, she painted the walls of her own bedroom in a restrained geometric pattern. In the furniture store "Meisterräume," she presented only her woman's bedroom with white walls. The colorful paintings in the adjacent living room formed an effective contrast to it
Once internationally known, now forgotten?
In its search for a new, up-to-date ideal for living, the Schürmann furniture store in Cologne initiated the Internationale Raumausstellung (International Interior Design Exhibition) in 1931. Ruth Geyer-Raack was its artistic director. She also presented her own design proposals, as the only woman alongside such renowned architects as Bruno Paul (1874– 1968), Adolf Loos (1870–1933), Le Corbusier (1887–1965), and Marcel Breuer (1902–1981).
Who did she work for?
Geyer-Raack designed modern prints to decorate interiors, which were commissioned by such famous companies as the Deutsche Werkstätten Textilgesellschaft mbH (DeWeTex), Vereinigte Werkstätten für Kunst im Handwerk (VW), and Gebrüder Rasch. Her patterns often combined traditional floral motifs with geometric abstraction.
Recent research by the Berlin journalist Ida Luise Krenzlin has revealed that she was also involved in painting the interiors of Luftwaffe buildings in Nazi Germany and in redesigning rooms in Krakow's Wawel Castle for the Nazi war criminal Hans Frank (1900-1946).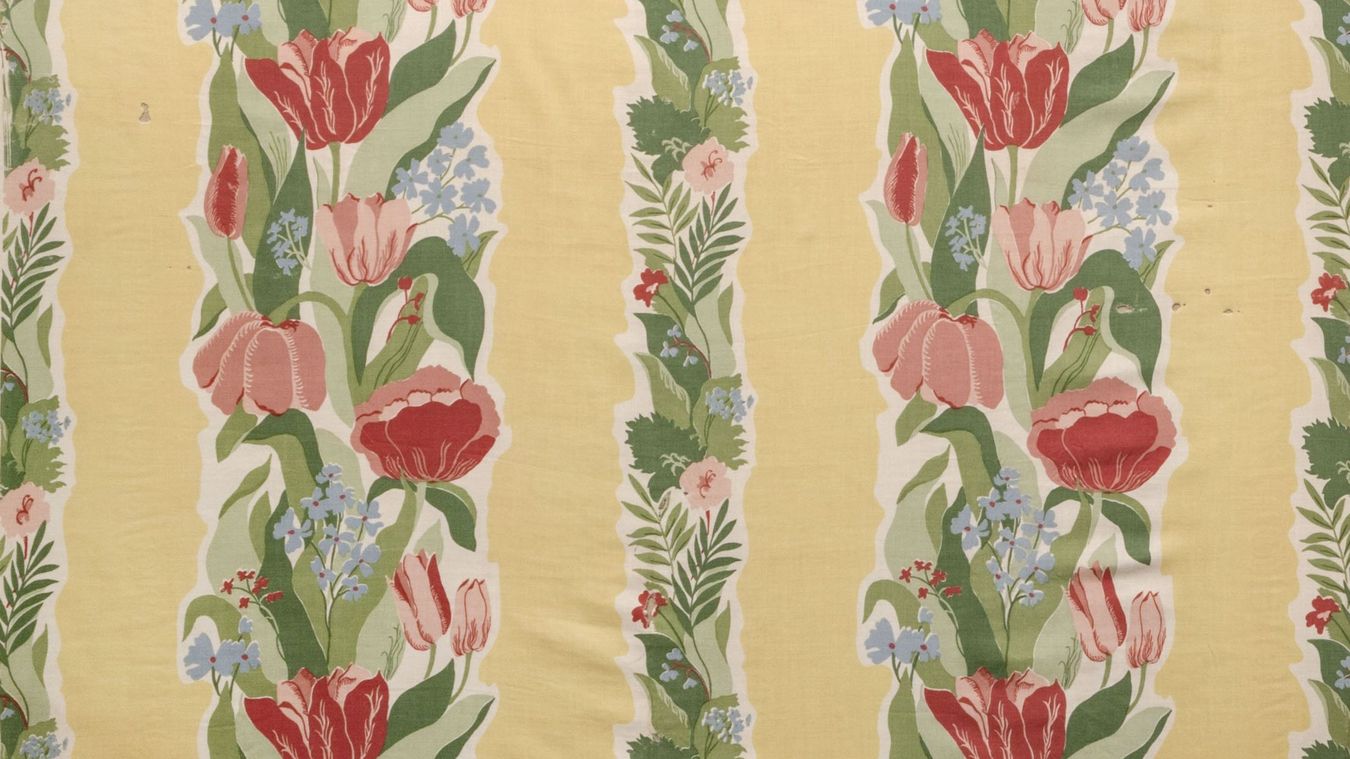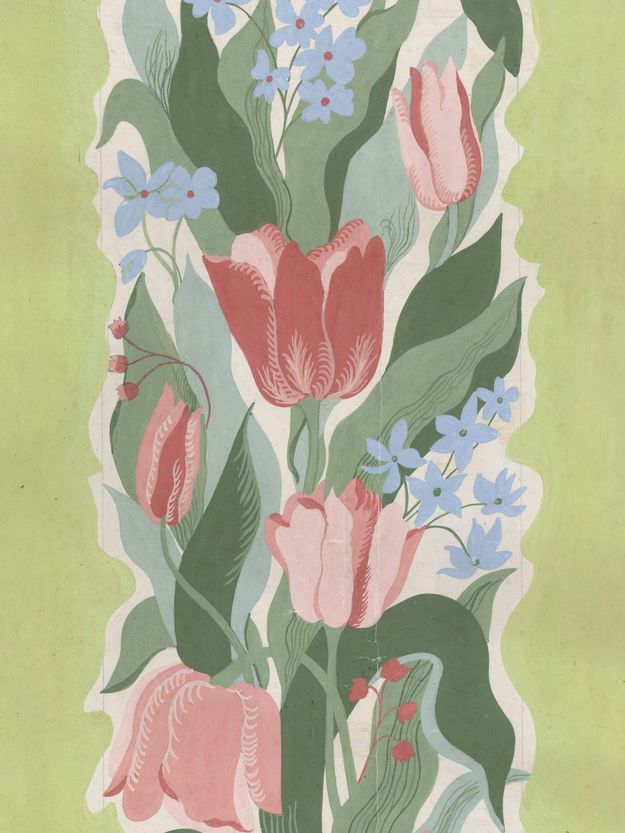 The basic pattern of the textile shown here includes vertical columns of tightly interwoven flowers, branches, and leaves in shades of green, red, white, and blue. Varying in width, this rhythmically repeating ornament articulates a bright background.
What is special about her patterns?
Several of Geyer-Raack's designs are marked by compactly distributed motifs across the entire surface of the pattern repeat. Most of these designs were multicolored, sometimes with floral or abstract graphics, and sometimes in imitation of fur patterns. The manufacturer of her Madagaskar design, two color schemes of which are on view here, was the Bremen textile manufacturer Wilhelm Cronjäger. Irregular fields in warm tones, on which spots, dots, rings, stars, and leaves are seen, join together like a puzzle. The design was printed during the manufacturing process on rayon staple – a synthetic fiber made from wood that was new at the time.
And her work after the war?
In keeping with the design ideas of the time, Geyer-Raack worked increasingly with geometric abstraction after her denazification on 28 September 1948. For the rapid and inexpensive mass production of fabrics and wallpapers, she designed simplified patterns of circles, triangles, or linear structures. In order to avoid cool austerity in her designs, she also employed thin, curving lines. She continued to combine them with restrained, welcoming, and warm shades. This resulted in a gentle and modern language of forms.
In the 1950s Geyer-Raack also presented a collection of shelves whose defining feature is their striking diagonal lines in the Galerie Bremer, an important cultural meeting point in West Berlin. At this time, she also designed the interior in the "Hotel am Zoo" and the Yugoslav Embassy in Berlin with delicate furniture made of white lacquered iron rods.
Biography
Ruth Gertrud Hildegard Raack was born on 16 June 1894 in Nordhausen am Harz, the daughter of Richard Raack and Therese Raack née Panzer. Her siblings are Gertrud Raack and Joachim Raack (1901-1997). Her family's move brought her to Berlin in 1913, where her father worked as superintendent of the Protestant church congregation Alt-Schöneberg. Here she studied at the Unterrichtsanstalt des Staatlichen Kunstgewerbemuseums under Emil Rudolf Weiß (1875-1942). This school was headed from 1907 by the architect and furniture designer Bruno Paul (1874–1968), with whom the artist would later collaborate professionally. In 1920/21 she attended courses at the Bauhaus in Weimar.
Two years after her marriage on 2 September 1922 to Hugo Wilhelm Geyer (1884-1975), an aviation officer and later Ministerialdirigent of the German Air Force, she opened her own studio in Berlin-Westend, Reichstraße 4, under her new name Geyer-Raack. In 1925 she joined the Deutscher Werkbund und in 1928/29 she worked for the Deutsche Werkstätten Hellerau. Until the 1930s she undertook several study trips to Paris, then the heartland of art déco. There she met the Hungarian-born architect André Sivé (born András Szivessy) and at exhibitions she complemented his furniture designs with wall paintings of her own.
Widely known from 1928 thanks to prominent articles in such popular interior design magazines as "Innendekoration", "Dekorative Kunst" and "Das Ideale Heim", Geyer-Raack benefited from numerous commissions. She created interiors for country houses, public buildings and passenger liners. She also designed fabrics and wallpapers for companies such as "Deutsche Werkstätten Textilgesellschaft" (DeWeTex), the wallpaper factory "Gebr. Rasch" and "Zimmer & Rohde". She built a reputation further afield as artistic director of the "Internationale Raumausstellung" in Cologne, where she curated a diverse cross-section of innovative ideas for the home from the avant-garde of international architecture.
As the global depression and mass unemployment took hold, fewer people were able to afford quality interior design. Moreover, the political conditions for art deteriorated in Germany after Hitler took power in 1933, restricting the field for modern interior design open to international trends. According to research by the Berlin journalist Ida Luise Krenzlin, Geyer-Raack joined the NSDAP on 1 May 1933 and became a member of the National Socialist organisations NS-Frauenschaft, NS-Volkswohlfahrt and Reichskulturkammer. She participated in the painting of Luftwaffe buildings as well as in the interior design of the Wawel Castle in Krakow for the National Socialist jurist and war criminal, Hans Frank (1900-1946). After the Second World War, Geyer-Raack worked above all for the booming textile, wallpaper and furniture sectors. However, up until her death in Berlin on 19 March 1975 she was unable to replicate the success she had enjoyed in the years around 1930. Today, the artist's work can be seen in various prestigious collections, including the Bauhaus Archive in Berlin, the Museum of Decorative Arts in Dresden, the International Design Museum in Munich, the German Wallpaper Museum in Kassel and the Art Institute of Chicago.