Open-air video art with Artist Talk: Igor Vidor and Gustav Elgin
Sat 14.8.21, 7.30 pm – 10 pm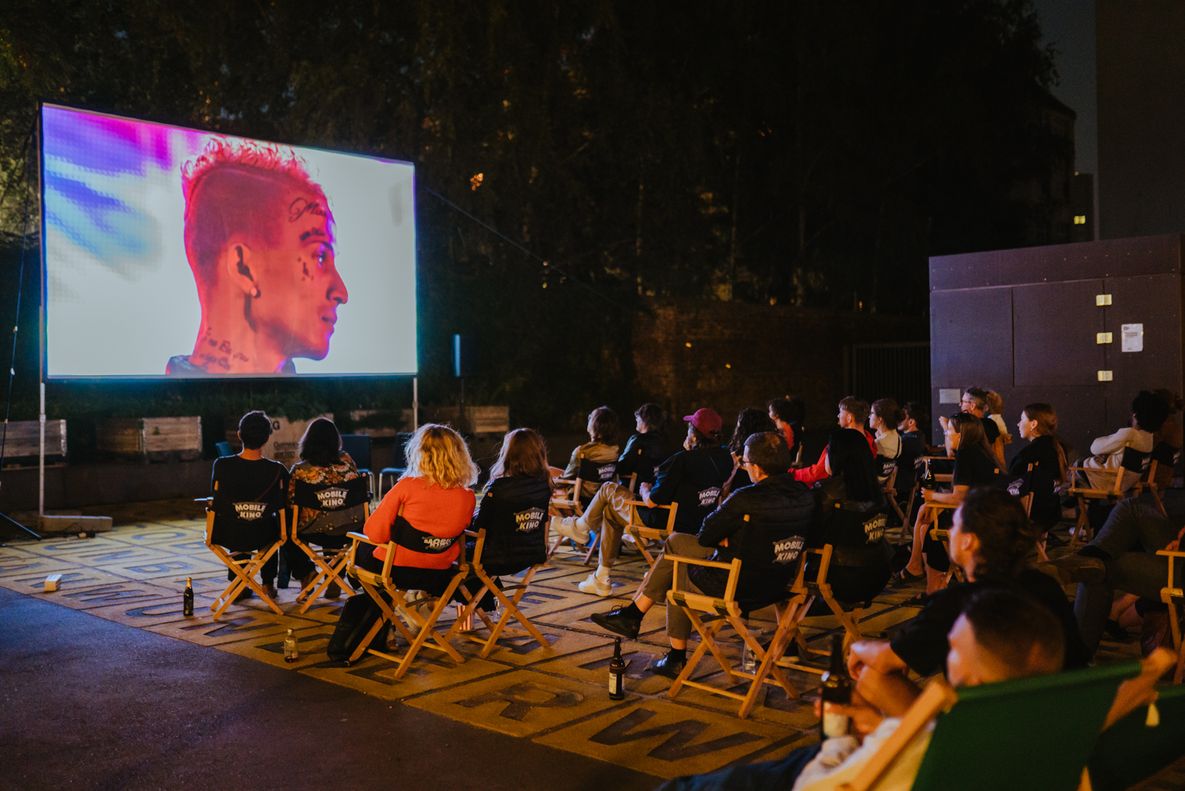 Part of "Park Platz", in English
Open-air video art screenings with Jung und Artig enter their second round this year. For a whole evening, the young friends of the museum will team up with Mobile Kino to convert the museum car park into an open-air cinema. The film is "A Praga" (The Plague), 2020, made by Igor Vidor, which is on the video art programme at the Berlinische Galerie. Before it starts, there will be an Artist Talk with the artist and with researcher Gustav Elgin. The event is part of the "Park Platz" project and will be presented by curator and project manager Nuno de Brito Rocha.
Jung und Artig
Jung und Artig is an association for young friends of the Berlinische Galerie. It has about 160 members under 30 who meet up to enjoy art, support their favourite museum and explore the Berlin art scene. Online and offline alike, we are the young art community for you, where you can get to know people, look at art together and discover the exciting art world in Berlin.
Video artist Igor Vidor
Igor Vidor is a Brazilian artist. He explores mechanisms of oppression and power and how these are expressed in Brazilian social codes, primarily in urban contexts. His recent works analyse how the United States and countries in Europe have influenced the spread of violence in Brazil and Latin America by manufacturing and trading in arms.
"A Praga" (The Plague) is his latest film. It juxtaposes footage from Oberndorf am Neckar in Baden-Württemberg with sequences recording police operations on the other side of the world. The artist examines the lethal links between the weapons industry in the little German town and the export of violence to other countries by German companies in an arms trade that has lasted over a century. Vidor is funded and supported in Germany by the Martin Roth Initiative.
Gustav Elgin
Gustav Elgin contributed research to Igor Vidor's work "A Praga". He studied comparative politics and art history. He researches into global networks of trade, industry and power and their all-pervasive presence in urban development.
The IBB Video Space at the Berlinische Galerie
Every month the IBB Video Space screens a different artist with a strikingly innovative approach to the media film and video.
Programme (in English)
7:30 pm Gates open
8:00 pm Artist Talk with Igor Vidor and Gustav Elgin, presented by Nuno de Brito Rocha, "Park Platz" curator and project manager
9:00 pm Video Art Screening: "A Praga" (2020, 39 min.)
€ 7 / reduced rate € 5* (* for Friends and Young Friends)
In case of bad weather programs have to be cancelled.